FROM VILLAVICENCIO, COLOMBIA, SOUTH AMERICA
The Gage Report
Sponsored by: Village Green Baptist Church
4707 S.W. 127th Ave.
Miami, Florida 33175
email: jhgage@yahoo.com
Mailing Address: A.A. 2578, Villavicencio, Colombia S.A.

VILLAVICENCIO, META, COLOMBIA, SOUTH AMERICA (Updated March 9, 2001) - Mission's 3rd Year - Vol 2 No.1015

Confirming the Faith is an important part of mission work
Bro. Joe Salgado visits the WORK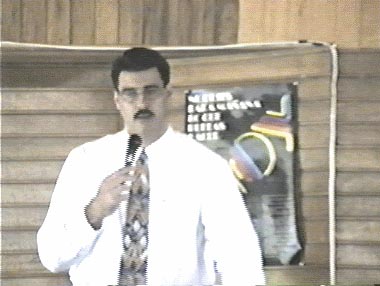 The mission is encouraged by Bro. Salgado's leadership
Villavicencio-. 80 turn out for Bro. Joe's second visit to the mission. «My first visit», according to Bro. Joe, «the mission barbecued Llanero style a whole cow. On this visit, you butchered a pig (lechona). With my luck, my next visit will be a CHICKEN and if I prophecy correctly, my fourth visit will probably be a FASTING.» All kidding aside, it truly was an enjoyable and profitable visit.
A BLOW BY BLOW ACCOUNT, (not literally)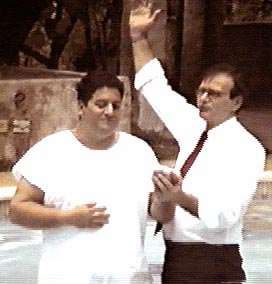 Friday, as soon as Bro. Joe arrived, we put him to work. Evangelistic services were held at the Barzal Mission and for the Bible Institute. Most of Saturday was used to catch up on the mission activities and reports. One of the main purposes for Bro. Joe's visit was to look over the property that the mission is buying. A $500 dollar offering toward the purchase was given by the Keansville Florida Missionary Baptist Church. (That whittles the balance down to $1250.) Then Saturday night we unleashed Bro. Joe for the Theological Seminary held her Official Opening with a Message and A Charge to Preach the Word.
Sunday was a full day at Barcelona with preaching, Bro. Ignacio Osorio being baptized then followed with the Lord's Supper and the reading of the Church Covenant. Baptist are famous for dinner on the ground. This mission ranks high with a Lechona but Bro. Salgado won the blue ribbon for eating the most. Of course, the importance is focused on great fellowship and working personally with the mission members.
Sunday night took us back to Barzal for the Ordination Service for Bro. Mauricio to the Gospel Ministry. Bro. Montoya has been helping the Manantial Mission, sponsored by Panama City's Church. Barzal also had two to be ordained as deacons: Bro. Jorge and Giraldo. Truly a learning opportunity for all that attended.
Monday was our first day of Classes at the Seminary and after prayer, meditation and lessons from the Word of God, Bro. Salgado's visit came to an end. Tuesday, bright and early we put him on a plane back to Miami and with that, we end our story with, AND EVERYONE LIVED HAPPILY EVERAFTER.

Update on Purchase of Lot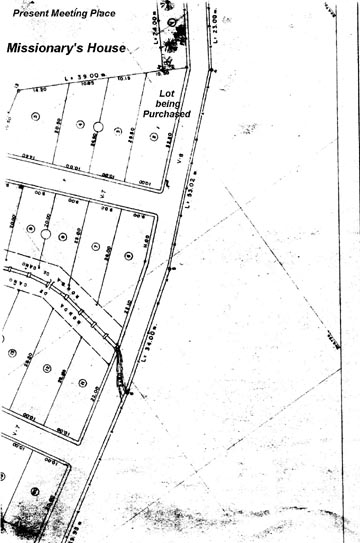 This is a copy of the plans for the property. The size is 10 mt X 30 mt (Aprox 30 ft. by 90 ft.). The mission along with several special offerings have reduced the dept to $1250 dollars. We still have a month to come up with the rest of the monies needed and would ask that you remember this need in your prayers. The mission is growing and we are doing what we can to finish the payment in time.